Beynex is an app that keeps the users' brains active by playing entertaining exercise games and tracks their cognitive health by daily gamified assessments. The users can see where their brain health falls with respect to the normal level within their age group.
The team behind the Beynex app consists of over fifty neurologists, psychologists, and engineers, with over 15 academic projects published on prominent platforms. They use serious scientific research to create games that give strong insights into the cognitive abilities of the users.
Together with Beynex, NeoRhythm can be a powerful mental engagement tool. NeoRhythm can encourage the users of Beynex app to reach their full potential, and Beynex can help NeoRhythm users track their improvements over extended periods of time.
NeoRhythm, as a PEMF device, uses specific frequency patterns which encourage the brain to mimic the signals provided by the device. By doing this, NeoRhythm may help with energizing, vitalizing, enhancement of mental capacity, and focus.
Benefits
Improved Cognitive Function
NeoRhythm helps with improving cognitive performance, attention and reducing the proportion of errors.
Increased Oxygenation and Blood Flow
PEMF technology energizes cells on a molecular level, resulting in oxigenyzed brain and increased blood flow.
Better Sleep
Improved circadian rhythm through neuro entrainment – tuning the brain to an external frequency.
Reduced Pain Perception
NeoRhythm stimulates and supports areas that produce pain reducing hormones – endorphins, serotonin and more.
Improve your well-being and quality of life
Made for active individuals, both physically and mentally. – NeoRhythm will help you de-stress, focus, energize your body, sleep meditate better and may help you live better with chronic or acute pain.
Programs Guide
Wireless & gesture-controlled
Frequency range: 3 – 303.41 Hz
Maximum intensity: 25 Gauss (2.5 mT)
Waveform: Trapezoidal
Weight 105g
Internal rechargeable battery
2-year warranty
Dimensions: 160 mm (6.3 in) x 170 mm (6.7 in) x 28 mm (1.1 in)
What is in the box?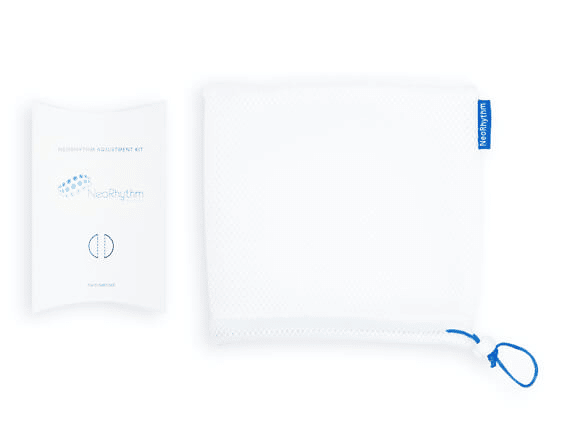 1x
Test tube with a magnet