60-day money back guarantee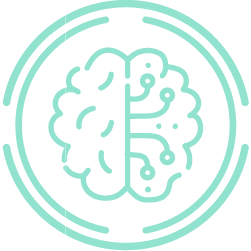 Helps your brain to stay active through brain exercises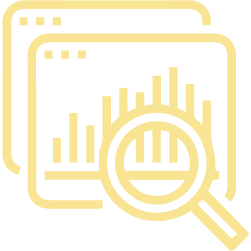 Keep track of any progress or decrease in your cognition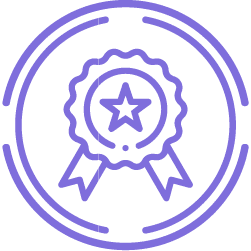 Compare your results
with the statistical average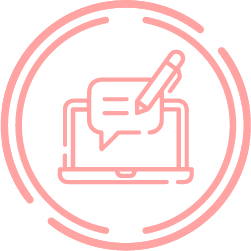 Beynex community,
Beynex blog, sleep sounds and breathing exercise tool
NeoRhythm is a pulsed electromagnetic field therapy device that emits corresponding dominant and accompanying frequencies to which the brain synchronizes, creating a perfect mental environment for the desired state of mind. NeoRhythm uses the non-invasive magnetic method of stimulation to target specific areas of the body with the purpose of helping the user reach a desired state of mind such as sleep, deep meditation, relaxation, focus, physical wellbeing, and more.
What is Beynex App?
Beynex is an app that keeps the users' brains active by playing entertaining exercise games and tracks their cognitive health by daily gamified assessments. It tracks the progress throughout the weeks in different categories like flexibility, problem-solving, memory, visual perception, language, attention, speed, and arithmetic. The users can see where their brain health falls with respect to the statistically average level within their age group.
What are the benefits of using the Beynex app?
Beynex app helps your brain to stay active through brain exercises that stimulate different areas of your brain
Beynex app helps you to keep track of your brain health and spot any progress or decrease in your cognition
Beynex app presents your rankings in comparison with the statistical average of the society in your age group
Beynex app lets you access the data instantly, and gives you monthly reports which you can share with your friends, family, and even doctor
You can communicate with the Beynex community to find out answers to your questions or share your experiences about brain health, cognition, psychology etc.
Beynex app releases curated blog posts that you can use to enhance your knowledge in cognitive and psychological areas.
How do Omnipemf and Beynex fit together?
Omnipemf's product NeoRhythm is a PEMF device that uses specific frequencies to help users with improving sleep, deep relaxation, meditation, enhancing mental capacity, and pain control.
One of the frequencies that NeoRhyhtm emits are the Beta Waves. Beta waves are generated by the brain when people are engaging in mental activities. By stimulating the Beta waves, users can improve their mental function and as a result of that, the physical efficiency of the brain.
Together with Beynex, NeoRhythm can be a powerful mental engagement tool focused on enhancing the mental capacity of users.
Purchasing NeoRhythm products grants lifelong free access to the NeoRhythm App. In addition to our specialized predefined programs, the app allows users to create custom programs and custom sequences.
How to use it?
Download the NeoRhythm App from the Apple's App Store or Google Play Store. Pair it with your NeoRhythm device.
If you choose "Quick Start" you will access the twelve predefined programs separated into five categories: energy, sleep, meditation, relaxation, and physical wellbeing.
Inside of each program, you will find a description of that program, recommendations for using it, and the suggested positions.
If you choose "Advanced Mode" you can create your own custom programs. You can customize the power, coils used, frequencies, and durations. You can save your custom programs and use them again.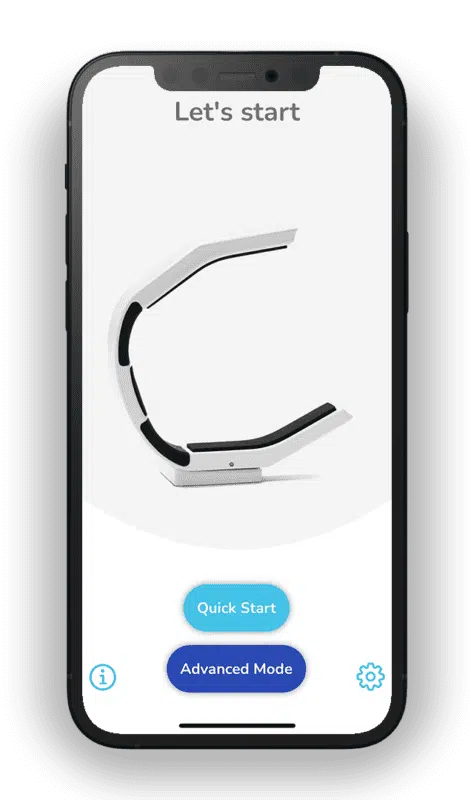 Pemf is a very efficient and tested technology that emits electromagnetic waves at different frequencies in order to encourage the body's natural recovery process.
The human body, brain, and the whole nervous system, act like tuners that receive signals from outside the body. Once the signal is tuned properly, the body begins to resonate synchronously (entrain) with the signal. PEMF therapy benefits operate with this entraining, signal-synchronization process to perform the desired actions in the body. By emitting Delta, Theta, Alpha, Beta, and Gamma frequencies NeoRhythm products help with deep meditation, sleep, relaxation, focus, and improved physical wellbeing.




1x Test tube with a magnet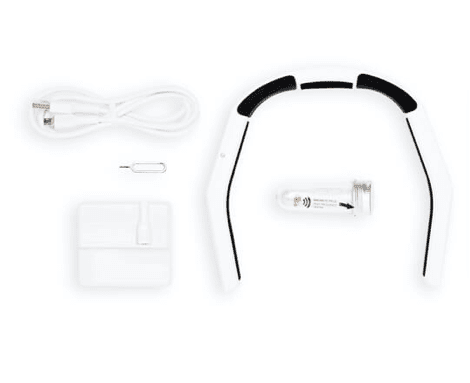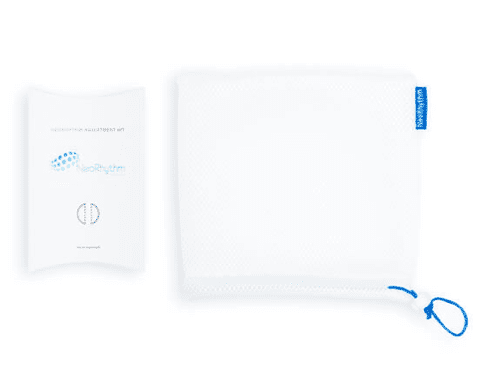 Wireless & gesture-controlled
Frequency range: 3 – 303.41 Hz
Maximum intensity: 25 Gauss (2.5 mT)
Waveform: Trapezoidal
Weight 105g
Internal rechargeable battery
2-year warranty
Dimensions: 160 mm (6.3 in) x 170 mm (6.7 in) x 28 mm (1.1 in)
Improved Cognitive Function
NeoRhythm helps with improving cognitive performance, attention and reducing the proportion of errors.
ENHANCES the body's natural recovery process
PEMF effectively helps to enhance overall physical wellbeing, better movement and relieve strains.
Better Sleep
Improved circadian rhythm through neuro entrainment – tuning the brain to an external frequency.
Improved Physical Wellbeing
PEMF machines work in conjunction with the body's own recovery processes.
Improve your well-being and quality of life easily and naturally
Made for active individuals, both physically and mentally. NeoRhythm will help you de-stress, focus, energize your body, sleep, meditate better, and improve your physical wellbeing.
Programs
NeoRhythm products help calm and slow down the brain, by emitting theta and delta frequencies

HOW IT WORKS:
The Improve Sleep program emits a dominant 4hz theta frequency that is accompanied by a 2.67hz delta frequency. Theta brainwaves mostly occur during light sleep and the REM stage associated with dreaming. Delta brainwaves are slow brainwaves produced in deep, dreamless sleep. The brain synchronizes with these frequencies, which creates an optimal environment for the body to enter a deep, regenerative sleep.

HOW IT WORKS:
The Dominant frequency of 40.5 Hz and an accompanying frequency of 4 Hz are emitted with intensity of 0.5 mT.
NeoRhythm products emit delta brainwaves to optimize our mental capacity

HOW IT WORKS:
Our normal waking consciousness is dominated by the beta brainwaves – the alertness frequency ban, which is why this program induces a dominance of beta brainwaves. When beta brainwaves are present, we think clearly and maintain our focus.

HOW IT WORKS:
When you're alert and focused, your brain emits frequency waves known as gamma waves. Scientific research proves that your brain can be trained to synchronize with external electromagnetic frequencies in order to achieve a state of heightened perception. NeoRhythm uses the Energy & Vitality mode to emit gamma frequency electromagnetic waves which your brain tries to mimic, resulting in an energy boost.
When we are calm and relaxed, yet alert, alpha waves prevail in the brain.

HOW IT WORKS:
The Deep Relaxation program induces a predominance of alpha brain waves. Your brain synchronizes with these frequencies, creating optimal conditions for relaxation, which will in turn allow you to de-stress, feel calm and reach a state of emotional, physical and mental well-being.
NeoRhythm products decrease sensitivity to pain and pain perception, and assist your body's natural recovery process.

HOW IT WORKS
NeoRhythm's Physical Wellbeing program emits dominant gamma and alpha electromagnetic frequency pulses in order to send the magnetic energy into your body. Its unique design allows it to be applied anywhere on your body.
NeoRhythm products help make meditation a long-term and impactful habit.

HOW IT WORKS:
NeoRhythm's Deep Meditation setting emits a dominant frequency of theta waves in addition to alpha waves, creating a natural environment for your brain to enter a deeper meditative state. Deep meditation is associated with better brain health, focus and relaxation.
Calming and Synchronization Meditation

HOW IT WORKS:
NeoRhythm emits a frequency of alpha electromagnetic pulses based on decades of research associated with electromagnetic therapy, allowing your brain to respond and enter a calmed state where cognitive functions are well balanced.
Alpha waves support mental coordination, calmness, alertness, mind and body integration, and learning. They control your mental processes and help you achieve optimal cognitive balance. During this program, NeoRhythm emits alpha waves to deal with stress-induced or anxiety-related sickness.

HOW IT WORKS:
Buddhist meditation on mindfulness with simultaneous high attention and tranquility. Voluntary control of attention and cognition. Suitable for those who want to improve their focus, executive functioning and overall alertness.

HOW IT WORKS:
Quiet Mind meditation, introspection, a path to illumination (CHAN, Vipassana) – Mindfulness meditation, Zen meditation, Yoga meditation, better access to the subconscious mind. Meditation leads to spacious awareness and expanded consciousness. Suitable for minimizing your internal monologue and experiencing restful awareness.

HOW IT WORKS:
Mindfulness meditation, Zen meditation, Yoga meditation, better access to the subconscious mind. Non-evaluative awareness of the present moment. Suitable for those who wish to take a step back from their thoughts and get in touch with their feelings and sensations.

HOW IT WORKS:
Activation of positive emotional states. Suitable for mood management, becoming more empathetic and kind.
How to choose the right PEMF device?
We have prepared an honest comparison among different types of PEMF devices, leaving out the companies respective names. All PEMF devices offer similar benefits, and any claims stating the uniqueness of their PEMF device in its effects must be scientifically confirmed. All frequencies, intensities, positionings of PEMF devices should be backed by science, therefore sufficient studies have to be a part of the offer.
 
 

Competition

 

How to choose the right PEMF device?

NeoRhythm Wearable

NeoRhythm Pad

PAD

Whole BODY MATS

HIGH-INTENSITY PEMF

Multi-Use

Targeted application can help provide local stimulation (affected body part), or assisting you to relax, focus, sleep (brainwave entrainment).

YES

YES

YES

NO

YES

Number of Programs

A bigger range of programs provide greater versatilty of the device.

12

12

up to 10

up to 10

up to 10

Customization

As our bodies react differently to the same frequencies, devices should offer multiple settings based on scienctific evidence.

50 frequencies / 3 intensities

up to 10

up to 10

up to 10

Travel friendly / Portable

(Brainwave) Entrainment is an important feature of PEMF technology, but the design and portability are vital to always having your device with you.

YES

YES

YES

Conditionally

NO

Money-Back Guarantee

Each can react differently to PEMF. If the device doesn't work for you, the seller should process a full-refund of the device.

60-day

60-day

30-day average

30-day average

30-day average

Platform To Ask Other Clients Before You Buy

Offering professional and honest support from medical experts, and a place for clients to interact directly about their experience.

YES, we offer professional support, unedited reviews and a platform to interact with new and old clients.

Some companies offer support, only a few have access to their clients' community.

Material and Care

Breathable, natural, easy care materials.

YES, antibacterial and easy to clean

NO, currently all the materials are non-natural.

Easy To Use

Each PEMF product should have clear instructions and easy to use - minimized buttons, rechargable battery.

YES

YES

NO

NO

NO

Day and Night Usability

The design and material of the device are suitable for daily use as well as while you sleep.

YES

YES

NO

NO

NO

Full Body Application

In come cases, full body treatment is required (e.g. osteoarhritis).

NO

NO

NO

YES

NO

Scientific Research

The intensities, frequencies and applications are proved by clinical or scientific studies.

YES

YES

YES

YES

YES

High/Low Intensity

PEMF can be used in many different ways, it's important to understand what you are looking for.

LOW

LOW

LOW

LOW-HIGHY

HIGH

Safety

Safe frequencies.

YES -
Research

YES-
Research

YES

YES

YES

Waveform differences between PEMF devices

As intensity and frequency, the wave-form affects how PEMFs will interact with body tissues and which mechanisms will be activated at cellular level.

Trapezoidal

Sinus, sawtooth, and square, trapezoidal, rectangular, impulse, triangular, and many other.
Check out our newest product
NeoRhythm Pad
New generation of extra lightweight, soft and durable PEMF pad devices made out of certified, breathable, and hygienic materials for constant and direct use with the skin or body, in bed, or while being seated.
Check it out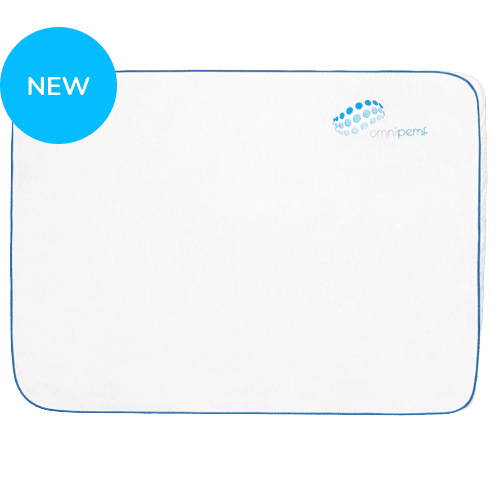 What our customers say about…