Millions of electrical pulses pass between neurons when we work, exercise, relax, or even sleep. This organized electrical activity, or brainwaves, differs by frequency from the slowest activity levels to the fastest: Delta, Theta, Alpha, Beta, and Gamma.
NeoRhythm emits corresponding dominant and accompanying frequencies to which the brain synchronizes, creating a perfect mental environment for the desired state of mind. NeoRhythm is a PEMF device using a non-invasive magnetic method of stimulation to target specific areas of the brain or body with the purpose of helping the user reach a desired state of mind such as sleep, deep meditation, relaxation, focus, pain relief, and more.
Benefits
Improved Cognitive Function
NeoRhythm helps with improving cognitive performance, attention and reducing the proportion of errors.
Increased Oxygenation and Blood Flow
PEMF technology energizes cells on a molecular level, resulting in oxigenyzed brain and increased blood flow.
Better Sleep
Improved circadian rhythm through neuro entrainment – tuning the brain to an external frequency.
Reduced Pain Perception
NeoRhythm stimulates and supports areas that produce pain reducing hormones – endorphins, serotonin and more.
Improve your well-being and quality of life
Made for active individuals, both physically and mentally. – NeoRhythm will help you de-stress, focus, energize your body, sleep meditate better and may help you live better with chronic or acute pain.
Programs Guide
Wireless & gesture-controlled
Frequency range: 3 – 303.41 Hz
Maximum intensity: 25 Gauss (2.5 mT)
Waveform: Trapezoidal
Weight 105g
Internal rechargeable battery
2-year warranty
Dimensions: 160 mm (6.3 in) x 170 mm (6.7 in) x 28 mm (1.1 in)
What is in the box?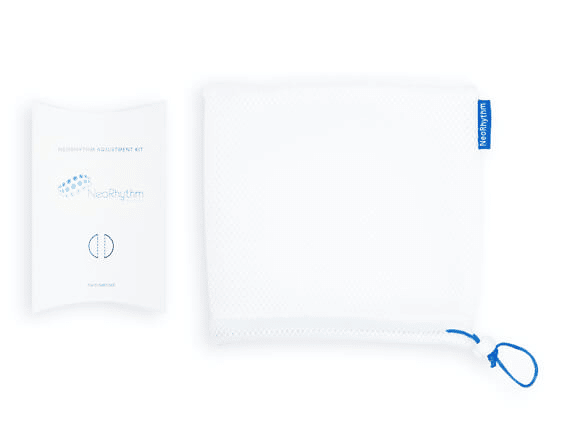 2x
Test tube with a magnet
What our customers are saying…