60-day money back guarantee


NeoRhythm Pad is a pulsed electromagnetic field therapy device designed for maximum comfort for using in bed, at work, in a vehicle, or on a chair. The Pad emits corresponding dominant and accompanying frequencies that are clinically and scientifically proven. Crafted from hygienic, breathable, and washable material, the NeoRhythm Pad is extremely lightweight, easy to use, and portable. The NeoRhythm Pad is unique on the market, and it was created for users' maximum comfort.
Recommended positions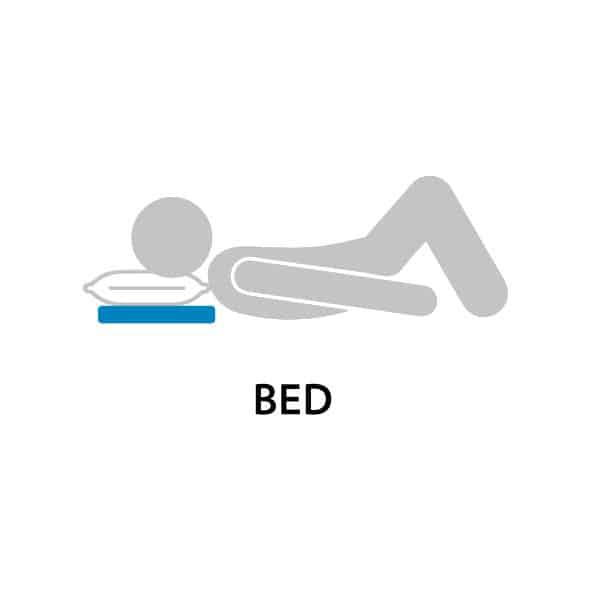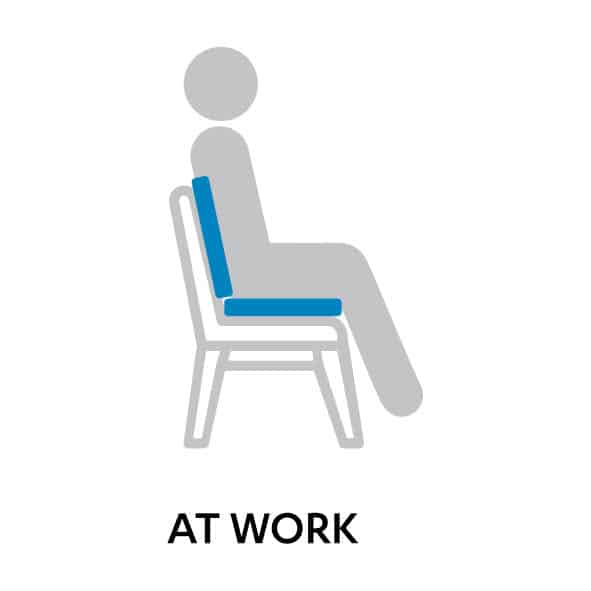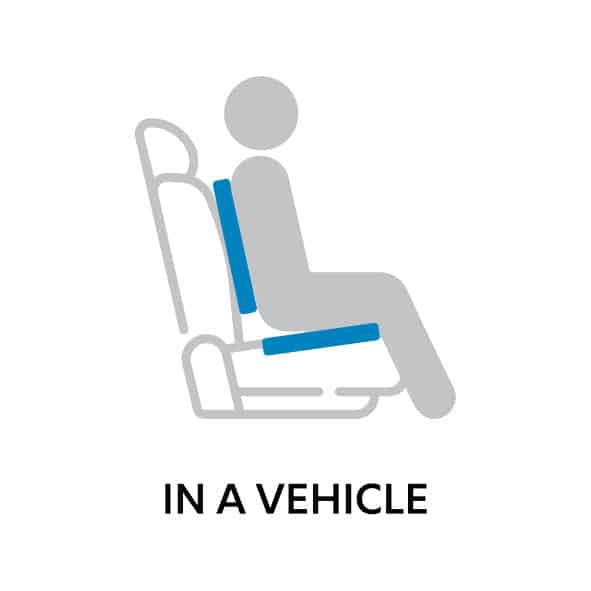 Purchasing NeoRhythm products grants lifelong free access to the NeoRhythm App. In addition to our specialized predefined programs, the app allows users to create custom programs and custom sequences.
How to use it?
Download the NeoRhythm App from the Apple's App Store or Google Play Store. Pair it with your NeoRhythm device.
If you choose "Quick Start" you will access the twelve predefined programs separated into five categories: energy, sleep, meditation, relaxation, and physical wellbeing.
Inside of each program, you will find a description of that program, recommendations for using it, and the suggested positions.
If you choose "Advanced Mode" you can create your own custom programs. You can customize the power, coils used, frequencies, and durations. You can save your custom programs and use them again.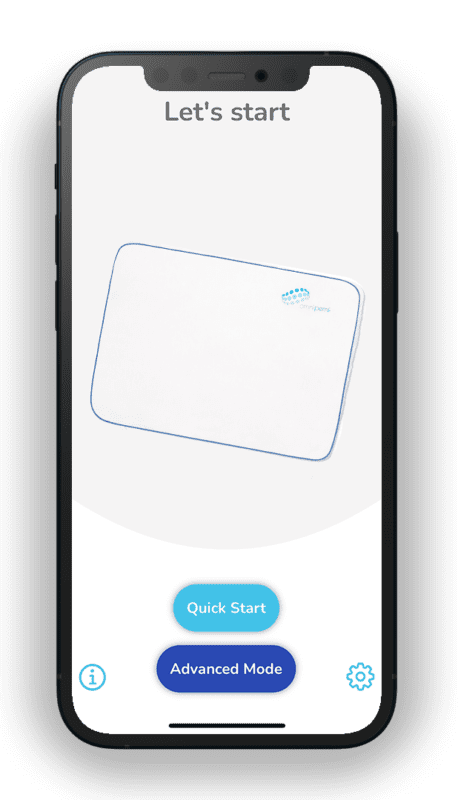 Pemf is the very efficient and tested technology that emits electromagnetic waves at different frequencies in order to encourage the body's natural recovery process.
The human body, brain, and the whole nervous system, act like tuners that receive signals from outside the body. Once the signal is tuned properly, the body begins to resonate synchronously (entrain) with the signal. PEMF therapy benefits operate with this entraining, signal-synchronization process to perform the desired actions in the body. By emitting Delta, Theta, Alpha, Beta, and Gamma frequencies NeoRhythm products help with deep meditation, sleep, relaxation, focus, and improved physical wellbeing.
1x Test tube with a magnet
1 x QR code for User Manual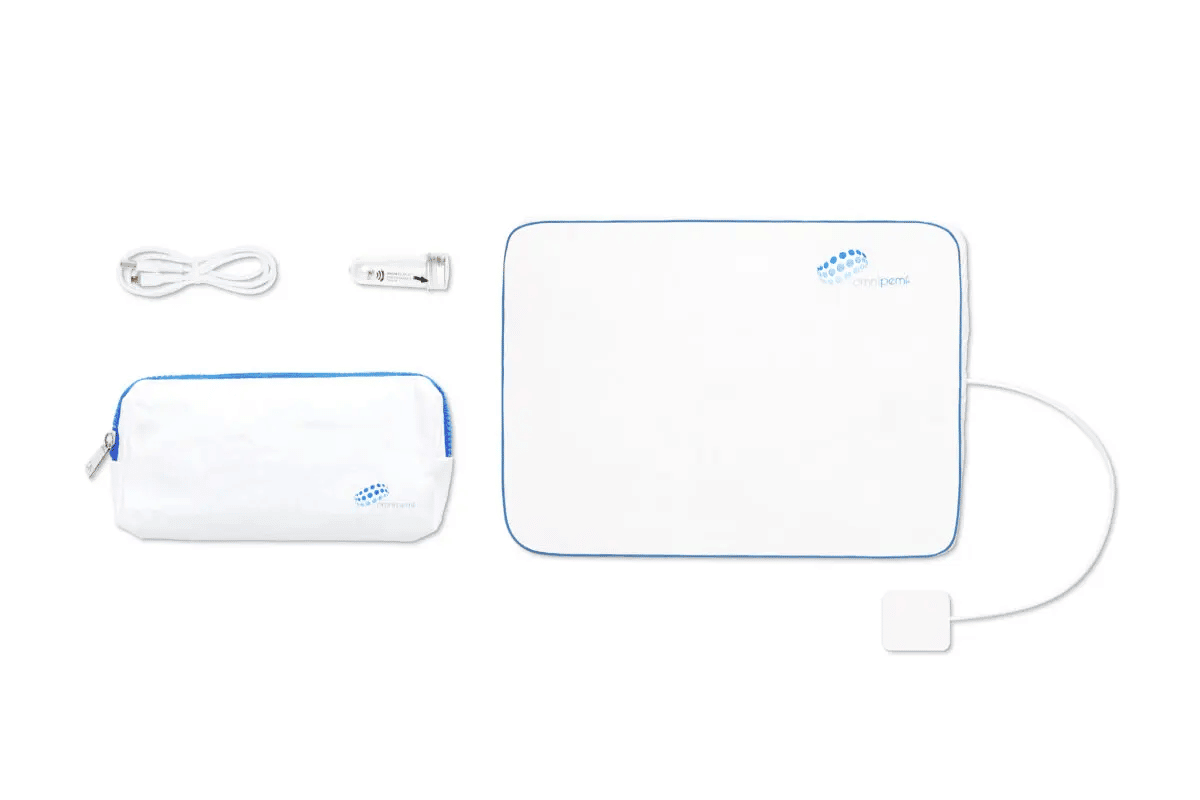 Wireless & gesture-controlled
Frequency range: 1-303.41 Hz
Maximum intensity: 25 Gauss (2.5 mT)
Waveform: Trapezoidal
Weight: 295gr
Internal rechargeable battery
2-year warranty
Dimensions: 330mm (13in) x 450mm (17.7in) x 20mm (0.8in)
FIRST GESTURE-CONTROLLED PAD
Easily start and stop with a tap or through the free NeoRhythm app.
MOST CUSTOMIZABLE PAD ON MARKET
Choose any frequency from the wide range our app offers.
CERTIFIED AND HYGIENIC MATERIALS
Made from antibacterial and breathable materials.
FOLDABLE AND LIGHTWEIGHT
Suitable for traveling and easily transportable.
Improve your well-being and quality of life easily and naturally
Made for active individuals, both physically and mentally. NeoRhythm will help you de-stress, focus, energize your body, sleep, meditate better, and improve your physical wellbeing.
How to choose the right PEMF device?
We have prepared an honest comparison among different types of PEMF devices, leaving out the companies respective names. All PEMF devices offer similar benefits, and any claims stating the uniqueness of their PEMF device in its effects must be scientifically confirmed. All frequencies, intensities, positionings of PEMF devices should be backed by science, therefore sufficient studies have to be a part of the offer.
 
 

Competition

 

How to choose the right PEMF device?

NeoRhythm Wearable

NeoRhythm Pad

PAD

Whole BODY MATS

HIGH-INTENSITY PEMF

Multi-Use

Targeted application can help provide local stimulation (affected body part), or assisting you to relax, focus, sleep (brainwave entrainment).

YES

YES

YES

NO

YES

Number of Programs

A bigger range of programs provide greater versatilty of the device.

12

12

up to 10

up to 10

up to 10

Customization

As our bodies react differently to the same frequencies, devices should offer multiple settings based on scienctific evidence.

50 frequencies / 3 intensities

up to 10

up to 10

up to 10

Travel friendly / Portable

(Brainwave) Entrainment is an important feature of PEMF technology, but the design and portability are vital to always having your device with you.

YES

YES

YES

Conditionally

NO

Money-Back Guarantee

Each can react differently to PEMF. If the device doesn't work for you, the seller should process a full-refund of the device.

60-day

60-day

30-day average

30-day average

30-day average

Platform To Ask Other Clients Before You Buy

Offering professional and honest support from medical experts, and a place for clients to interact directly about their experience.

YES, we offer professional support, unedited reviews and a platform to interact with new and old clients.

Some companies offer support, only a few have access to their clients' community.

Material and Care

Breathable, natural, easy care materials.

YES, antibacterial and easy to clean

NO, currently all the materials are non-natural.

Easy To Use

Each PEMF product should have clear instructions and easy to use - minimized buttons, rechargable battery.

YES

YES

NO

NO

NO

Day and Night Usability

The design and material of the device are suitable for daily use as well as while you sleep.

YES

YES

NO

NO

NO

Full Body Application

In come cases, full body treatment is required (e.g. osteoarhritis).

NO

NO

NO

YES

NO

Scientific Research

The intensities, frequencies and applications are proved by clinical or scientific studies.

YES

YES

YES

YES

YES

High/Low Intensity

PEMF can be used in many different ways, it's important to understand what you are looking for.

LOW

LOW

LOW

LOW-HIGHY

HIGH

Safety

Safe frequencies.

YES -
Research

YES-
Research

YES

YES

YES

Waveform differences between PEMF devices

As intensity and frequency, the wave-form affects how PEMFs will interact with body tissues and which mechanisms will be activated at cellular level.

Trapezoidal

Sinus, sawtooth, and square, trapezoidal, rectangular, impulse, triangular, and many other.
Check out our bestseller
NeoRhythm
Highly efficient PEMF device, suitable for all daily activities. The design supports relaxation, focus, different meditation practices, and deep restorative sleep.
Check it out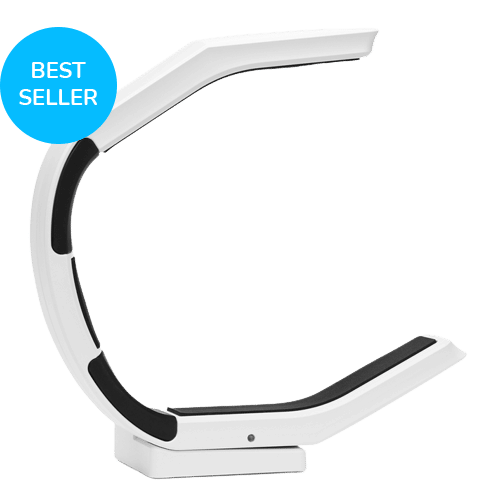 What our customers are saying about NeoRhythm Pad